News
200 sets of ultrasound machines were delivered to Cambodian hospitals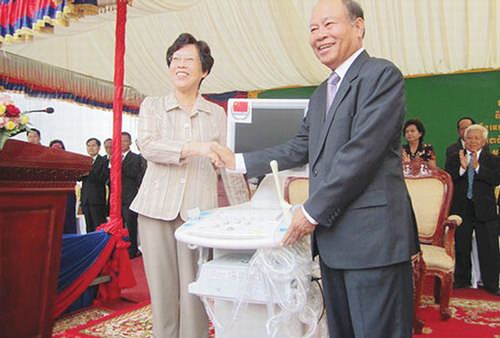 On Monday, SIUI presented at the handover ceremony, as Chinese Ambassador to Cambodia Bu Jianguo handed over the ultrasound equipment to Cambodian HealthMinister Mam Bunheng, at the Health Ministry's Drugstore, on the outskirts of Phnom Penh in Dangkor district.
This foreign aid project is signed between China's Ministry of Commerce and Cambodia's Ministry of Health to provide Cambodian hospitals with 200 sets of ultrasound machines in order to contribute to the improvement of the country's health quality and services. It is SIUI's honor to stand out from the other Chinese brands and become the sole supplier after careful preparation and fierce competition.
Speaking at the handover ceremony, Ambassador Bu expressed her confidence that the ultrasound machines would help Cambodian doctors to diagnose the exact character of patients' diseases so as to contribute to improving the effectiveness of treatment.
As a specialized provider of ultrasound machines, SIUI will keep on working closely with the government to serve the Cambodian health sector with diligence and dedication.
For detailed information, please click:
http://en.cambodiasky.com/news/social/3172.html