Features
Function
Gallery
Download
Innovative platform plus outstanding transducer enable a responsible scanning
Powered by the cutting-edge RealView imaging processing technology and the up-to-date specialized transducer technology, the Apogee 6500 achieves a 70% upgrade in the overall operational performance.

Tuned Gain
Through Tuned Gain, the system automatically recognizes and intelligently makes up the echo difference between different depths of the tissues and organs. Compared with the traditional TGC, it ensures the uniformity of near-far field image echo more accurately. The technology provides an exact lesion detection so as to facilitate the diagnosis even on difficult-to-image patients.




Talented Encode
Talented Encode technology improves the frequency accuracy and bandwidth of received echo to enhance the image penetration and resolution. Compared with the traditional physical module processing method, it helps to present the useful imaging information more efficiently and show the lesions of different depths more accurately.

Tailored Filter
It allows the system to automatically identify all types of speckle noise and intelligently make customized filtration. Compared with the conventional dynamic filter technology and speckle reduction imaging, Tailored Filter increases the S/N ratio by 35% to present a more distinct image.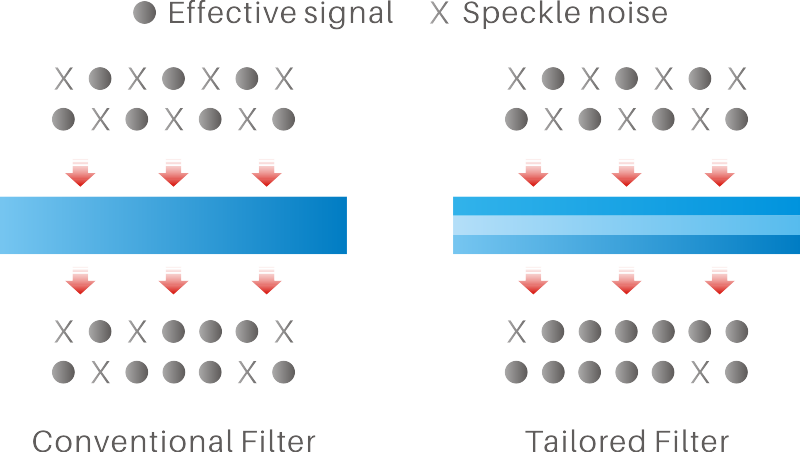 Probe Family
Linear probe
18MHz linear probe presents detailed image information and detects lesions in superficial tissues, tendons, nerves, peripheral veins etc., which plays an important role in MSK.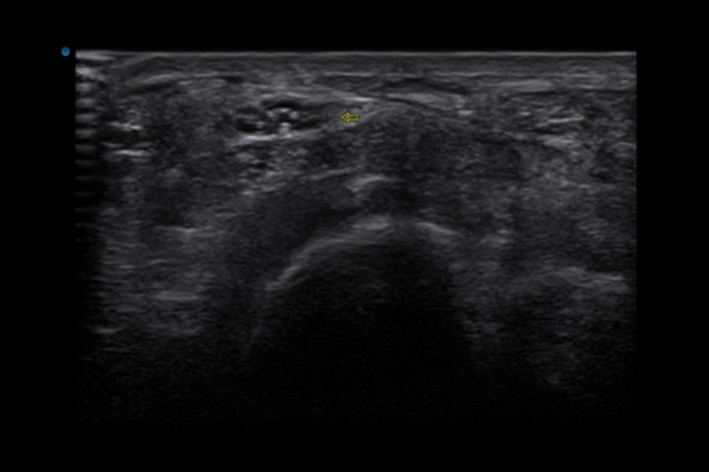 Micro-convex probe
Micro-convex probe conducts thorough and distinct 2D scan and captures sensitive color flow, specializing in the craniotomy, laparotomy intraoperative, neonatal craniocerebral and deep vascular exams.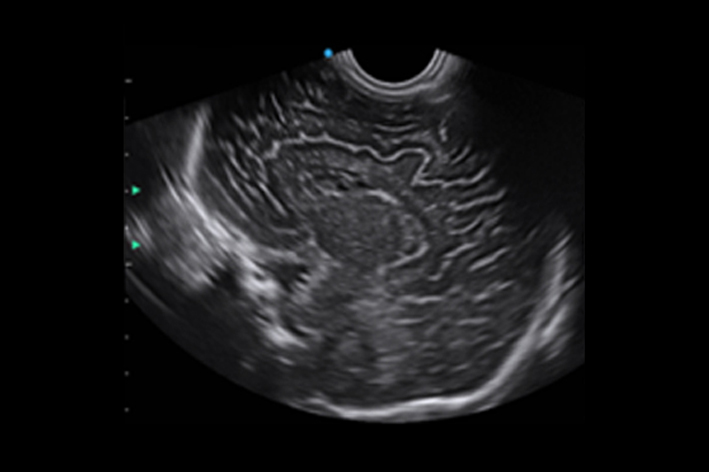 Neonantal Craniocerebral Sagittal Section
Bi-plane probe
Bi-plane probe guides interventional procedures through real-time bi-plane imaging with the custom biopsy guide. It furthers guaranteed scanning in Urology.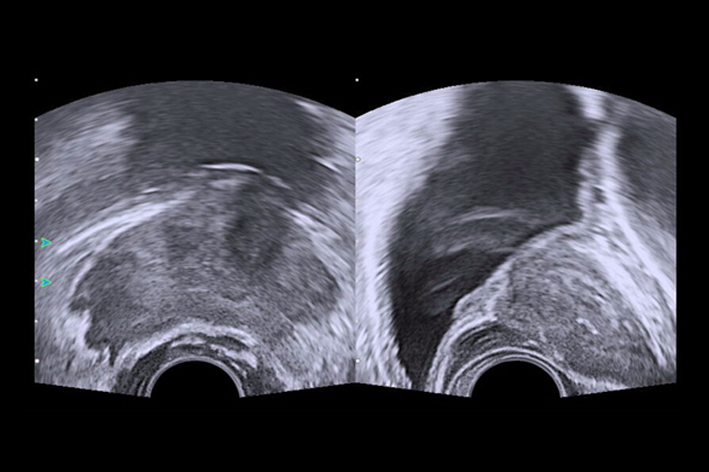 Prostate
Auto EF
Auto EF automatically measures cardiac volumes based on speckle tracking technology. The system identifies the endocardium and establishes a ROI using an anatomical database. LV EF, ESV, EDV and GLS are calculated at the same time. It provides an effortless and efficient way to acquire accurate 2D EF and volumes, which is a decision supporting tool to cardiac function diagnosis.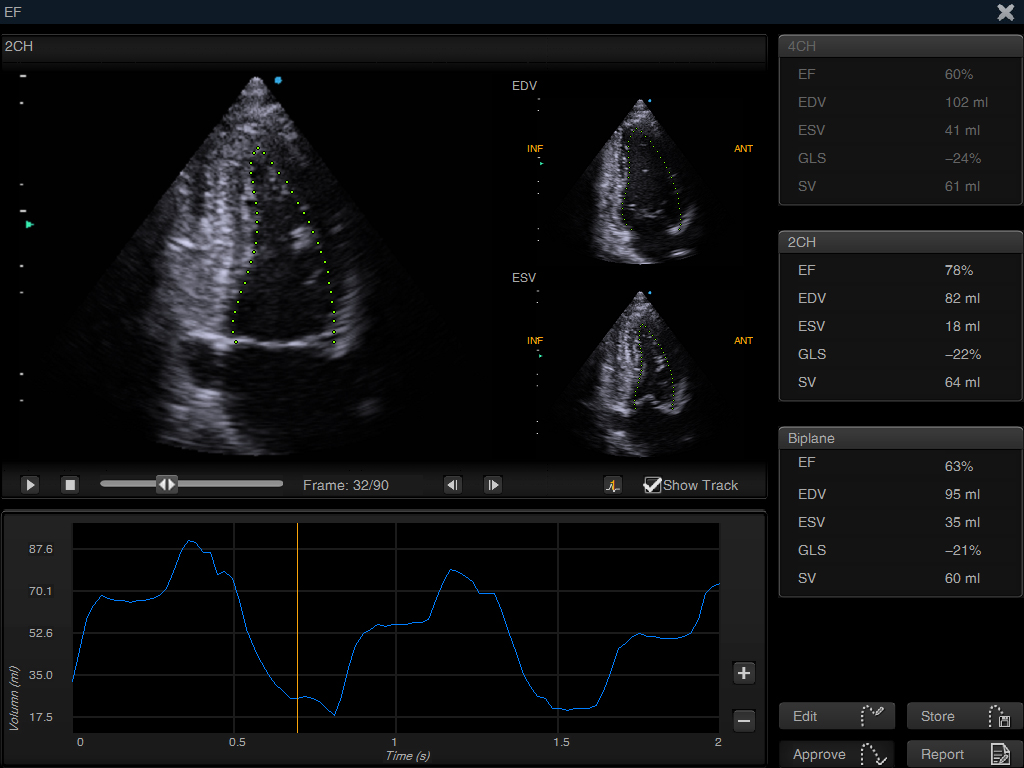 Auto SG
Auto SG is the automated quantitative assessment of both global and regional myocardial functions. It provides a table of segmental strain, 17-segment and global WMS as bull's eye analysis, live tracking images, LV average GLS, and various waveform displays. With the trace of myocardial motion, it supports diagnosis on typical cardiac diseases like dilated cardiomyopathy, hypertrophic cardiomyopathy and restrictive cardiomyopathy.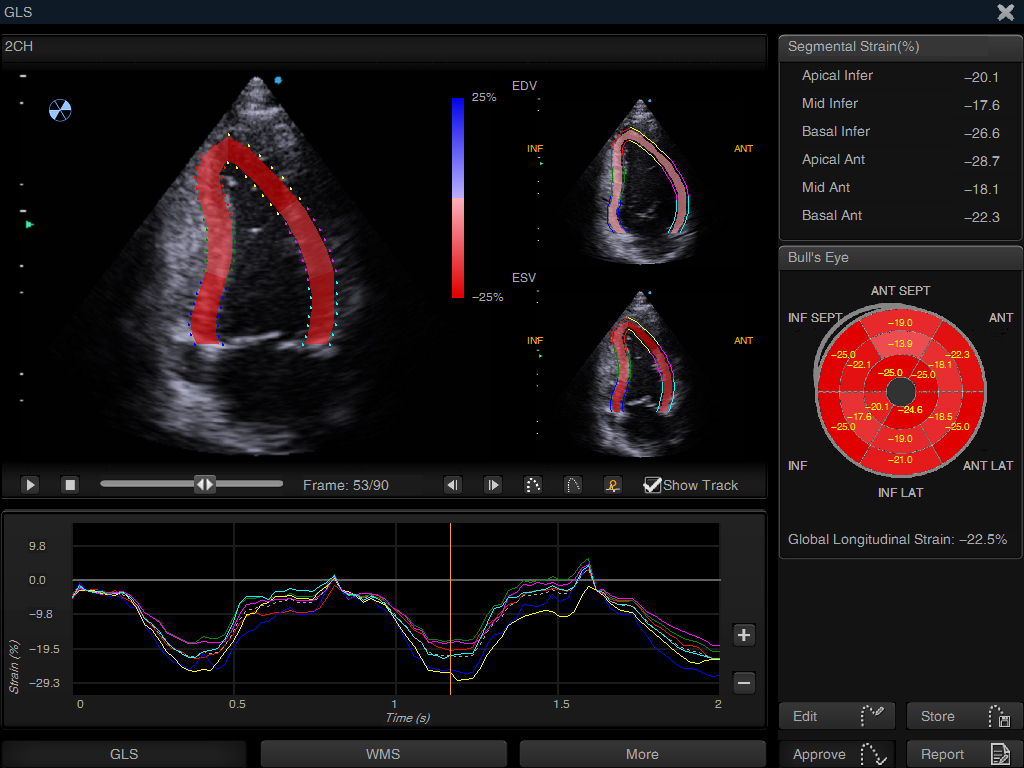 Stress Echo
Stress Echo assesses wall motion of the heart at rest and stress and offers an analysis of LV systolic function. With assistance of ECG module, it is a non-invasive way to detect the coronary artery abnormality.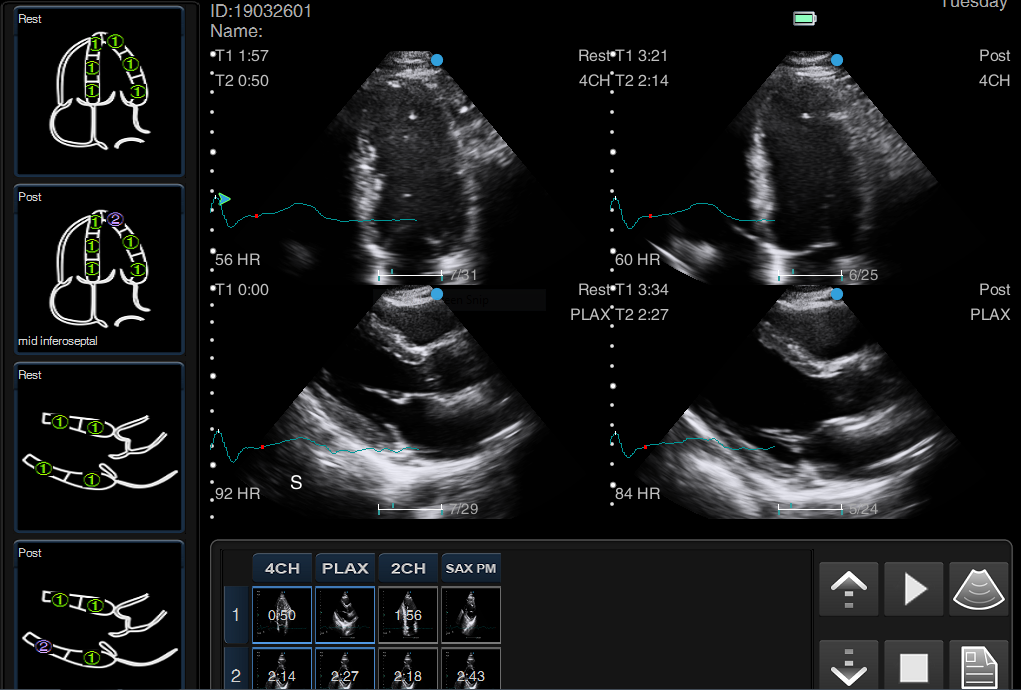 Ultrasound Contrast Imaging
Ultrasound Contrast Imaging effectively enhances the 2D imaging and blood flow Doppler imaging of the liver and kidney, which is safe, real-time and affordable. It empowers the detection and qualitative diagnosis of tumors in liver, kidney and other organs.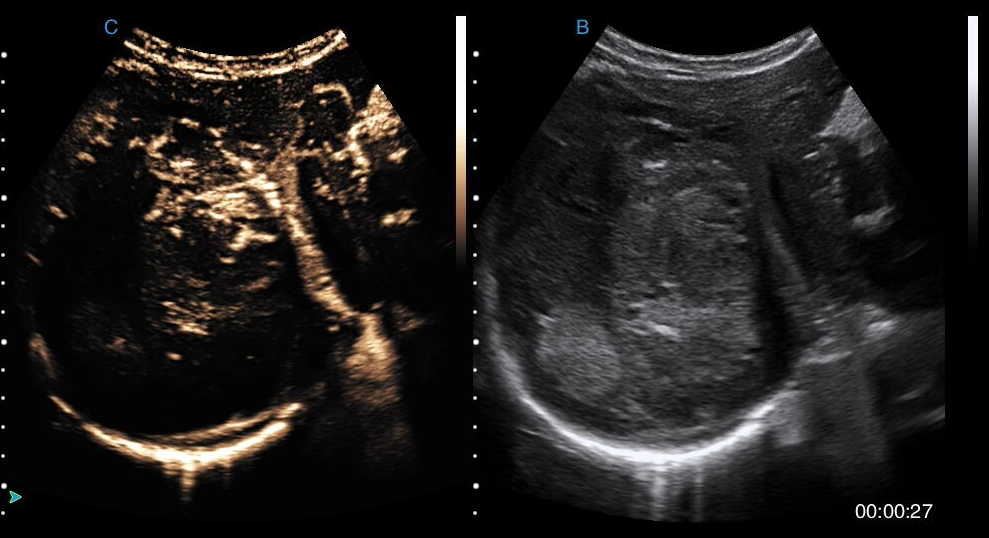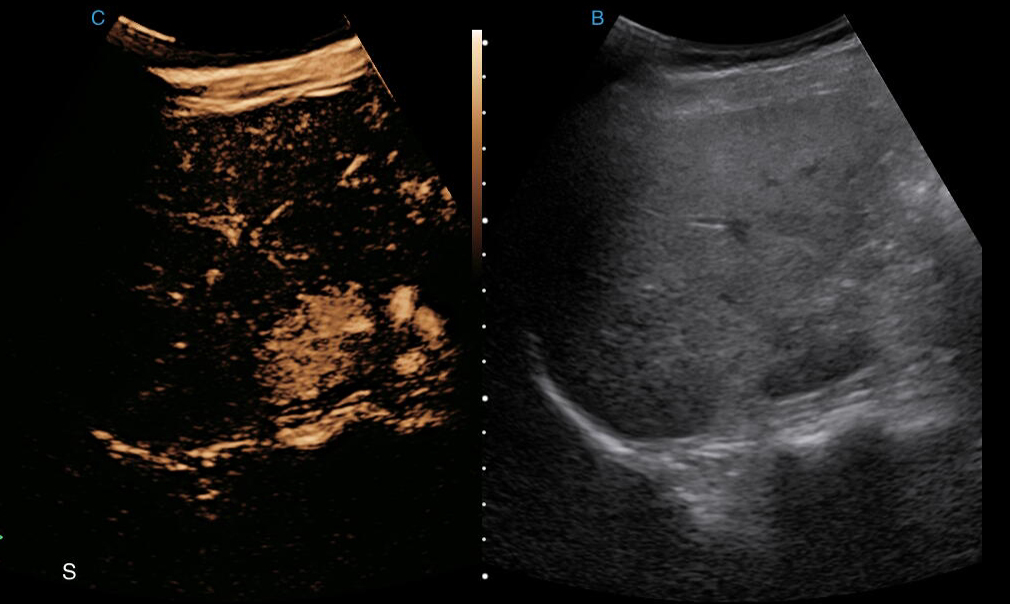 Lumi 4D
Lumi 4D is an image rendering processing technology to present more lifelike 4D image with higher resolution. Utilizing light source with adjustable angle and position and the shadow therefore, it makes the image a much stronger three-dimensional sense.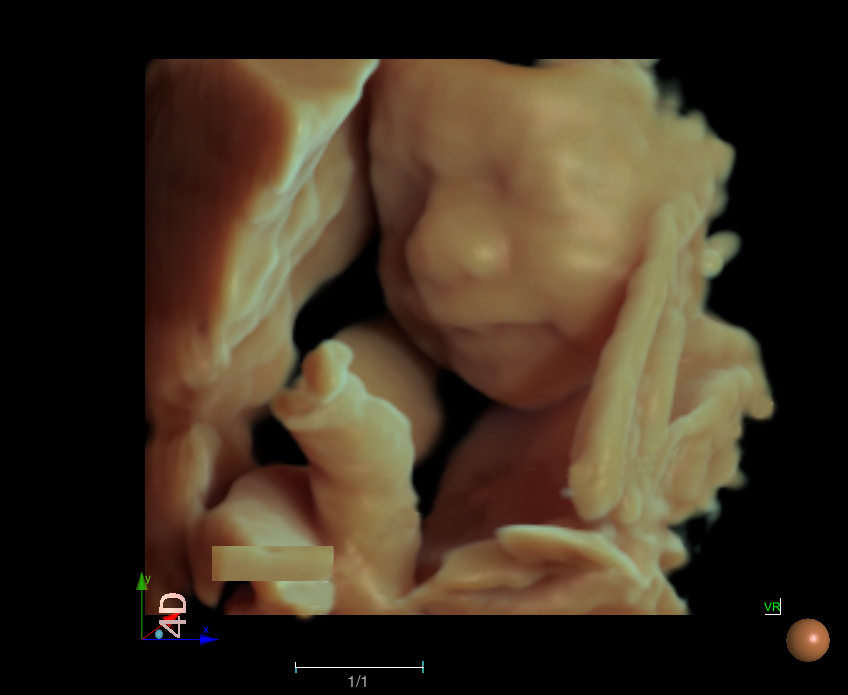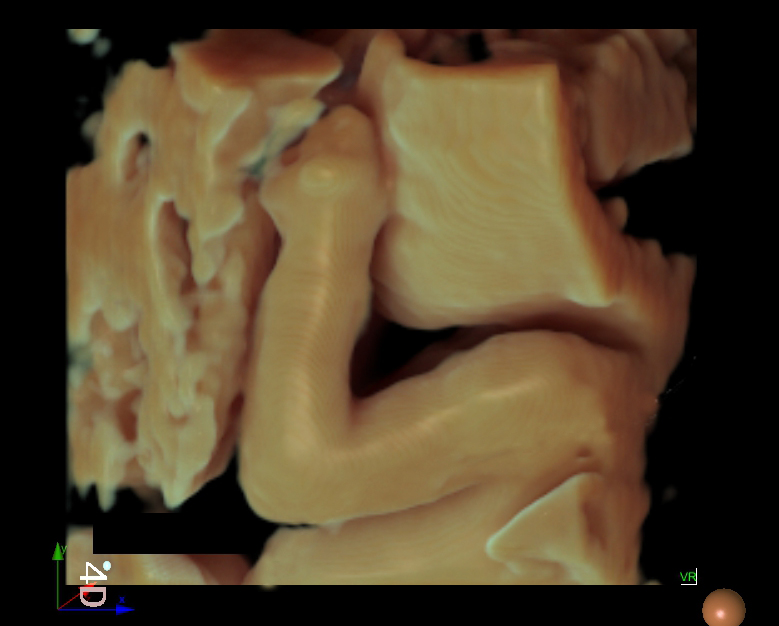 Needle Enhancement
based on the ultrasonic beam deflection and imaging fusion, needle enhancement is used to strengthen the view of biopsy needle. Cooperated with the custom biopsy guides with adjustable needle angle available, it implements an effective biopsy for tumor.